NCTE 2014 Annual Convention Online Program Proposal System is Closed.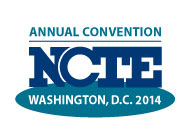 Key Dates:

January 15, 2014 by 11:59 pm PST -- Proposal Submission Deadline
May 2014 -- Invitations and letters of regret sent
Late May 2014 -- Accepted invitees confirm online and make edits
November 20-23, 2014 -- NCTE Annual Convention, Washington, D.C.


Please log in to view your submission. Note: This profile is different than the account you use to log into the NCTE website.




This form is now closed.





For technical support with this system, please email ncteannual@ce.uoregon.edu.