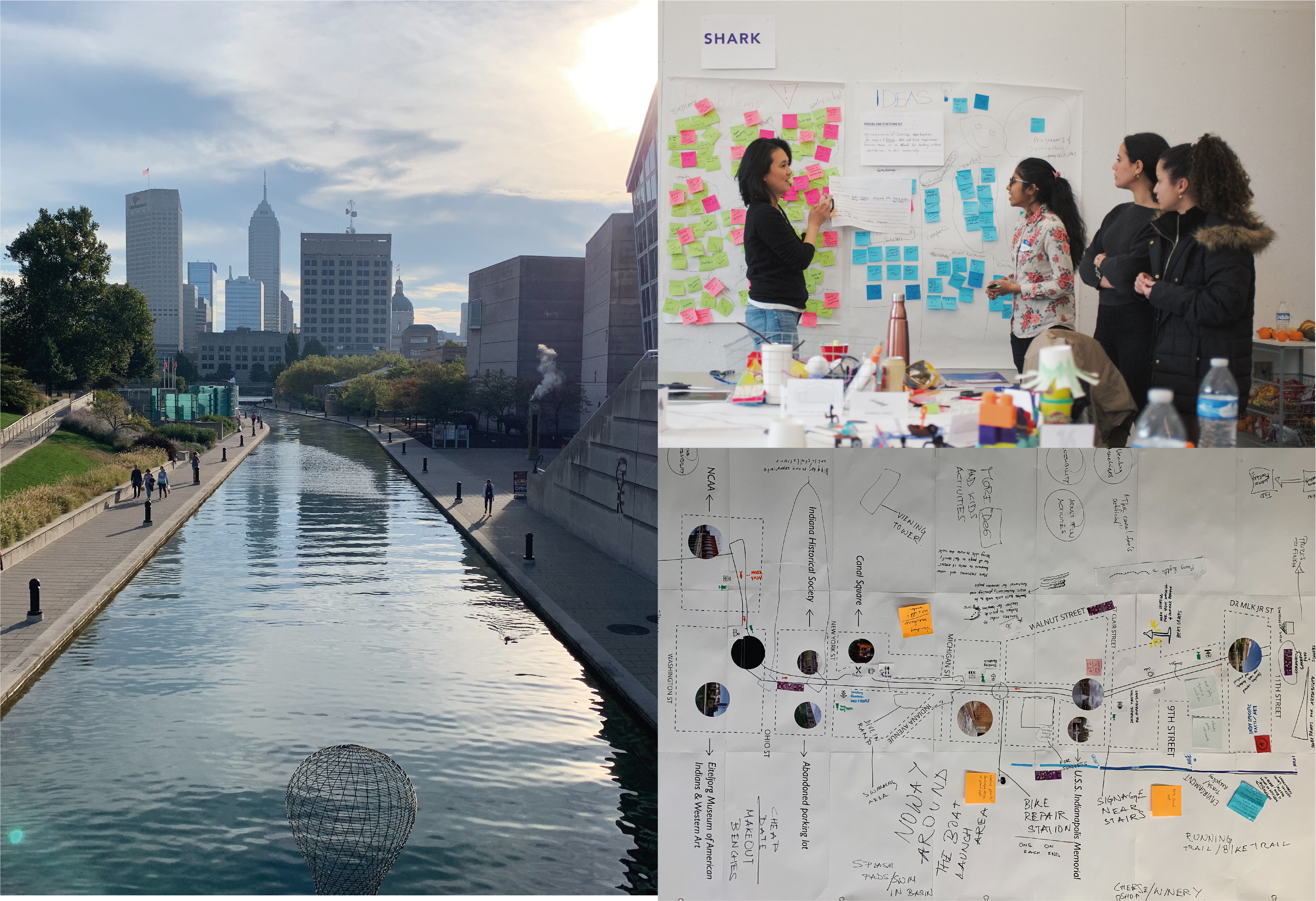 How might we re-imagine public spaces using a people-centered design approach?. A case study in the Canal Walk of Indianapolis.

Presenter is live Monday, August 3, 1:00 pm–2:00 pm Eastern Daylight Time (EDT)
Please login to view meeting URL.
SHARE THIS SESSION
Designing public spaces with and for people is crucial to achieve well-being, foster a sense of belonging, and make spaces more vibrant and inviting, creating opportunities for economic and social development. According to Jane Jacobs, great cities were ruined because urban planners failed to understand that social interaction is what makes a city great. Furthermore, we are now living in rapidly changing cities, where people's needs and goals become increasingly complex. This adds up to a constant gap between decision-makers and the audience they are serving in, weakening the connection between people and the places they share. In this regard, research approaches to address people's needs while also involving them as experts of their context is crucial. 'Re-Imagining the Canal Walk Experience' is an ongoing project from the design graduate program at IUPUI in collaboration with the Department of Metropolitan Development of Indianapolis. This case study examines how a people-centered design research project was conducted in a signature area of Indianapolis, as well as showing the use of participatory strategies to understand and propose significant changes to the Canal Walk. The research team engaged in multiple stages of a problem-solving process. From thoroughly understand people's behaviors, experiences, and desires to propose ideas in tangible forms that people can experience and interact with. The methodological framework used was the Herron Design Process Model. The structure considered seven phases: understand, define, ideate, prototype, evaluate, plan, and act. However, the scope of this academic project did not consider the 'evaluate,' 'plan,' and 'act' stages. The beginning of this project used preliminary observations to define the types of people and how they engaged in the area. Next, based on an ethnographic approach, the researchers created a research protocol that used observations and participatory observations to understand the perspectives, needs, engagement with the space, and desires from people. Finally, generative design tools were utilized to help people express their thoughts and feelings while performing a creative act concerning the subject under study (Sanders & Stappers, 2012). The contents of this proposal are directed to multiple sectors (academic, public, private, and nonprofits) interested in including people significantly when designing or redesigning public spaces. This proposal is also directed to people working in creative placemaking initiatives. Finally, it aims to foster discussions about the value of a people-centered design approach between professionals involved in processes concerning city planning and collaborative action. The goal is to show how this process served to define a creative placemaking intervention in the Canal Walk. Furthermore, it strives to show the value of using a people-centered design approach to tackle intricate problems and strengthen the connection between people and the places they share. Finally, the author expects to foster discussions around people-centered design and urban planning challenges. *At the time of this submission, the project is at its early research stages. However, by the date of the conference, all the phases will be covered, and the contents will be ready to be displayed in the format designated by the organizers.
Presented by
Luis Garcia, Indiana University Purdue University Indianapolis


Currently, as a Fulbright Scholar, Luis is pursuing an M.F.A. in Design Research and Strategy, where he is exploring how Design can be a catalyst for social change and inserted in urban planning and policy-making processes. At the same time, Luis is an active member of the Center for Teaching and Learning in IUPUI, where he intends to improve his educational profile and explore how Design Facilitation can create more effective learning environments in universities. Luis enjoys being part of citizen participation initiatives and projects where he can insert Design methods, processes, and mindsets. In 2019, he was part of a multidisciplinary team that monitored and proposed solutions for a new public bike-sharing system in Cuenca, Ecuador, where he included a user perception component to the entire process, allowing public authorities to consider critical aspects to improve this transportation system. He is also engaged with multiple research groups and innovation networks, where he is continuously learning and cooperating in the fields of cities, biosciences, and education. Luis's interests include systems thinking and design research for urban planning and policy-making.